Yellow Pages Spider is a very powerful tool that can research the most famous yellow pages directories and can scrape/extractor important data for instance business name, its complete address, website link and contact details including phone number and email address. With our software, you can easily customize your searches and can extract information as per your needs and can enjoy different features of the target site.
Yellow Pages Spider Full Version
Yellow Pages Spider is a tool that does searches in the most popular "yellow pages" directories and extracts important information like business name, address, phone number and email.
With our application you can create 100% customizable searches in a browser like IE so you can enjoy all the features of each target site. Just enter a category and location, then do a search and when you get the first page of data click the "Get Data" button and the rest is magic!
All the results will be extracted and formatted in a list that you can review before saving to a CSV file that can be imported into MS Excel or your MYSQL database.
How it works
(
Yellow Pages Scraping)
Export Business Name, Address, City, State, Zip Code, Website, Email Address, Map Link, Source Link, Category into Excel Sheet with Yellow Pages Spider.
All you have to do is to enter a category and location in the search bar and then just click search, and when you see the first page of searched items you can click "Get Data" button and wait for wonders to happen for you. Yes, when I say wonders, it means that you will not get data in a row form, you will get data in a well-organized manner that you can easily review and can import to MS Excel or your MYSQL database.
"Just Follow The 3 Simple Step Process
And Let The Software 

Do All The Hard Work

"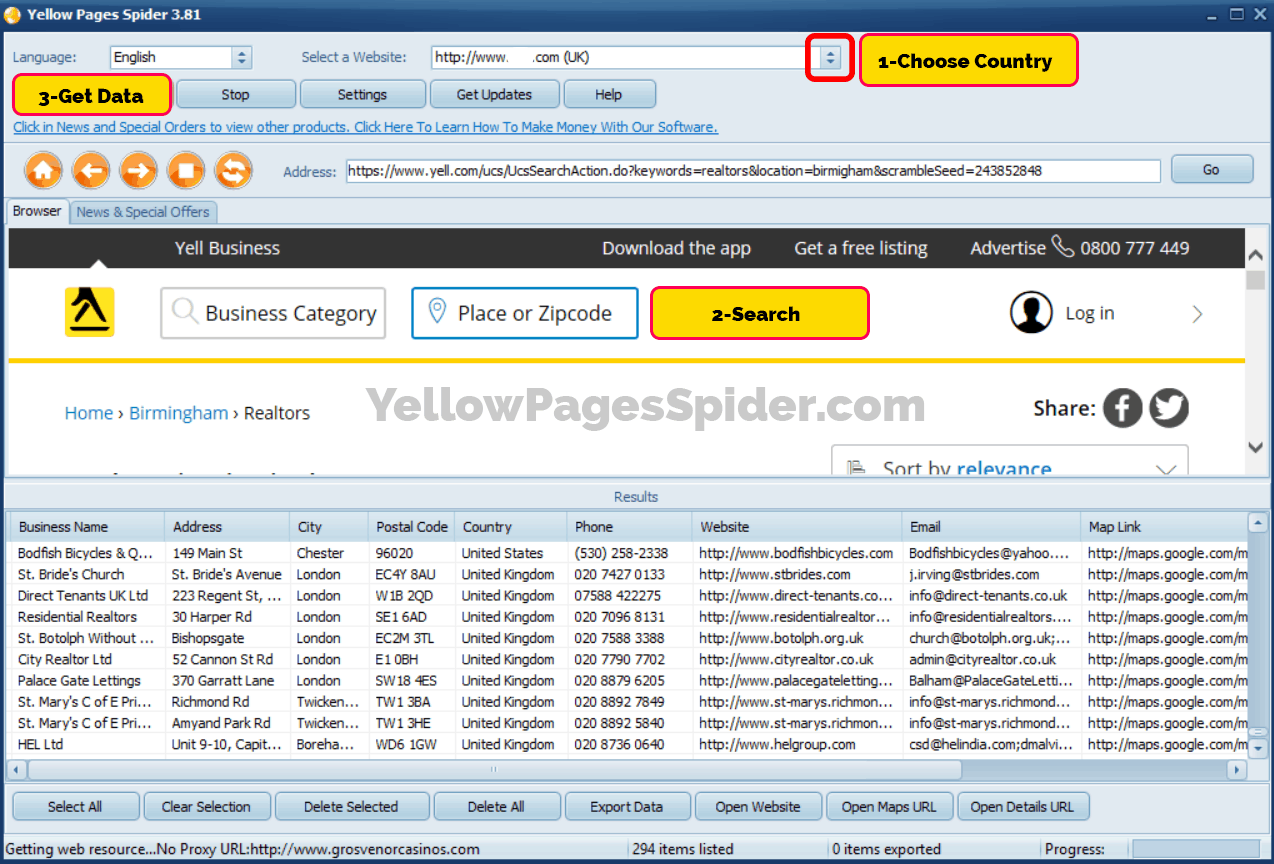 What do you need?
We are sure you are looking new clients for your business. We know how hard and expensive is the process to find the best sources to get these leads and then try to filter your list before start contacting them by email or phone calls.
What we created?
What we made is a tool that speed the searches in the most popular yellow pages businesses directories in all world using custom keywords in and locations in yellow pages extractor. It extracts yellow pages data all available contact data like name, address, phone/fax numbers, website url and emails. We have more information about current features of our software and a video where you can see how easy is to use this tool.
What we promise to you?
We will deliver an excellent product backed with a dedicated support and multiple offers to keep you as our customer for years to come. We are no newbies in this business. Yellow pages spider free download & Our software is very popular in more than 65 countries where we have thousands of customers.
Why Yellow Pages Spider?
 The most powerful and popular scraping tools of its kind! Used by Marketing Companies and Freelancers from all over the world, trusted by major Fortune 5000 companies. Buy License with one time Payment.
Best Yellow Pages Scraper Features
Take a look at the new awesome features of our software. Check why we said you found the perfect tool to discover potential customers for your business.
Easiest way to get data
The easiest method in the market to get a list of contacts with addresses, emails, phones, fax numbers & websites after you do a search in your favorite Business Directory. Just one click in "Get Data" button and done. You get THOUSANDS of LEADS ready to export to Excel.
Multiple language
We now support English, French, Spanish and Italian languages in the application interface. New languages will be added soon to cover our customers in Europe and Asia!
Dedicated Support
We want that you use our tool. If you have any issue just send us an email and you will receive an answer in minutes. We give solutions not excuses. Our development team will do anything to make you move forward.
The World in your Hand
Our tool extracts leads from more than 20 different business directories in the top markets in the world. Get access to MILLIONS of potential customers in USA, Canada, UK, Germany, Italy, Spain, Netherlands, Singapore, Dubai, Australia, Brazil, Argentina and many other countries.
Privacy and Security
Your privacy is important for us. We added settings to use yur own proxies, rotate them and simulate human interaction with the target websites using random intervals of times bewteen every request. We can also recommend some affordable VPNs for huge extractions.
Export to multiple formats
Once you get your list of contacts, you can remove unwanted items and then you have different options to export to TXT or Excel formats. We also support multiple Unicode formats like ANSII, UTF7 and UTF8.
Yellow Pages Spider download Requirements

Compatible with Windows
XP SP3,Vista, 7, 8, 10+
and Server 2003 or higher
Yellow Pages Spider Download - Digital Marketing Softwares 2020
Yellow Pages Spider is a very powerful tool that can research the most famous yellow pages directories and can scrape/extractor important data for instance
Price: 24
Price Currency: USD
Operating System: Windows 7,8,10
Application Category: Web Scraping
Yellow Pages Spider Download - Digital Marketing Softwares 2020
Yellow Pages Spider is a very powerful tool that can research the most famous yellow pages directories and can scrape/extractor important data for instance
Price: 25
Price Currency: USD
Operating System: Windows 7,8,10
Application Category: Web Scraping